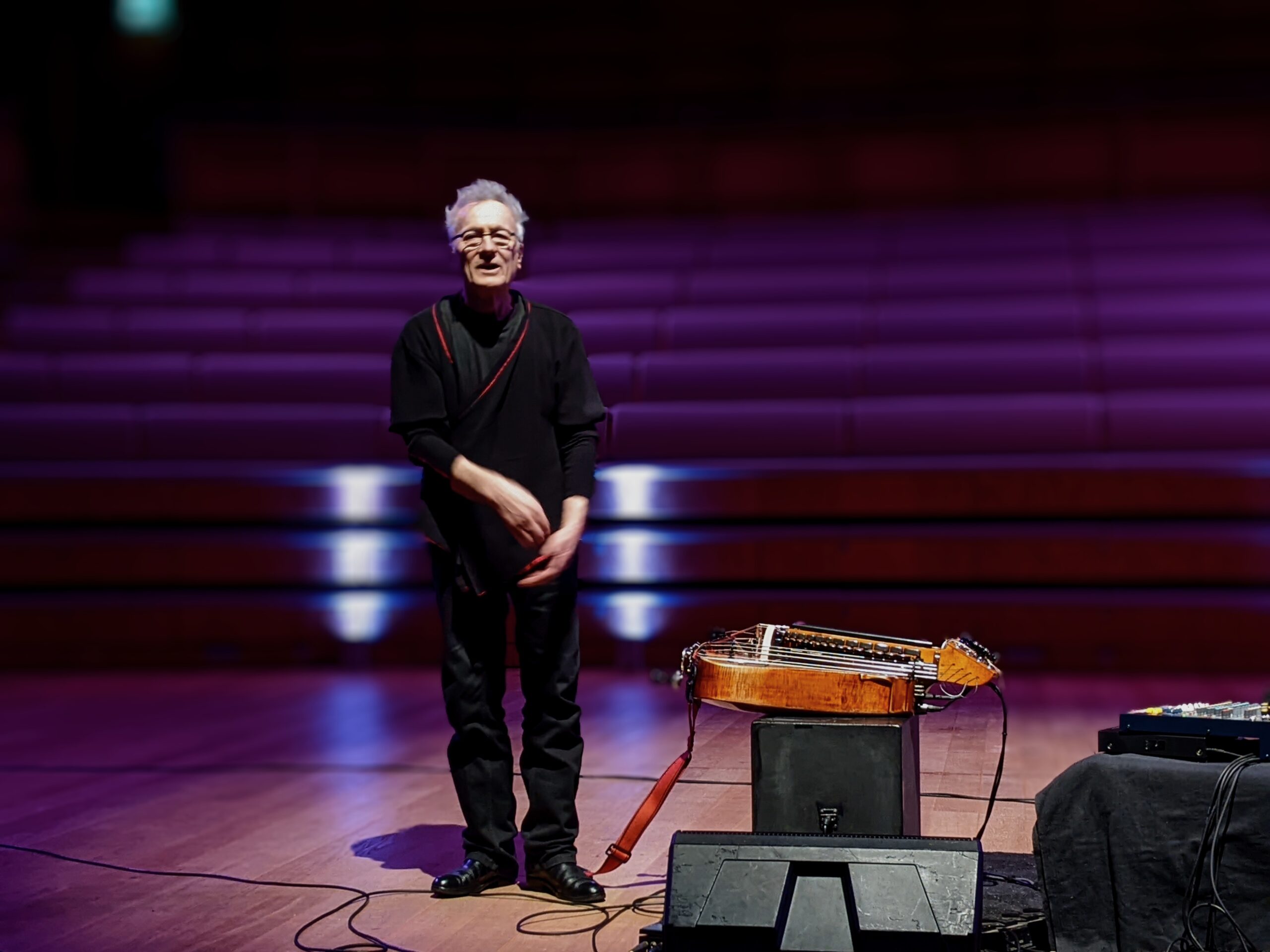 Valentin Clastrier at the Gulbenkian Art Centre, Canterbury 2022. Photo: M de Pulford
FR#
237
Valentin Clastrier / Evan Parker
Sat 08-10-22
- Doors at
8:00 pm
This special event is a collaboration between the Gulbenkian Arts Centre, Free Range and world-renowned Hurdy-Gurdy maker Claire Dugue.
'Living legend' Valentin Clastrier is considered the inventor of the modern hurdy-gurdy which, in his hands, creates a magical and virtuoso universe. His playing is full of surprises, as is his career. Originally a guitarist alongside Jacques Brel he then discovered the hurdy-gurdy and, over the years, worked with instrument makers on prototypes of electroacoustic hurdy-gurdies leading to his current 27-string instrument.
'deep sonorous drones supporting cascades of notes and sometimes discordant swashes of sound, with electronic effects feeding the serpentine melodies and creating hauntingly powerful, sometimes intoxicating sonic spirals'.
After winning several prestigious awards and much critical acclaim, Valentin is back in England for the first time in over 20 years and we're very happy to have him in Canterbury!
There will be two workshops for hurdy-gurdy players earlier in the day, one with Valentin Clastrier and the other with Nigel Eaton. To book a place contact Claire at [email protected]
Evan Parker (soprano saxophone)
'If you've ever been tempted by free improvisation, Parker is your gateway drug'
Stewart Lee, The Guardian

'There is, still, nothing else in music - jazz or otherwise - that remotely resembles an Evan Parker solo concert'
Steve Lake

'One of the music's greatest living instrumentalists'
The Times
For over 50 years Evan Parker has been widening the scope of what is possible on a saxophone. Using techniques such as circular breathing, Parker creates complex worlds of sound with vivid, intricate detail projected into polyphonic textures that slowly evolve and grow. It's as if Parker dismantled all musical language associated with the saxophone and stripped it back to simply air passing through a column and, from this ground zero, created something new that is simultaneously primal, modern, hypnotic, intimate, vast and microscopic.
Information about tickets and booking
We have partnered with the Gulbenkian Arts Centre for this special event.
Tickets cost £15 (£10 students) and are available here:
Click here to book tickets
Links
Valentine Clastrier Links:
Evan Parker Links:
Sponsors and Partners:


Supported by Arts Council England Project Grants

In partnership with Gulbenkian Arts Centre