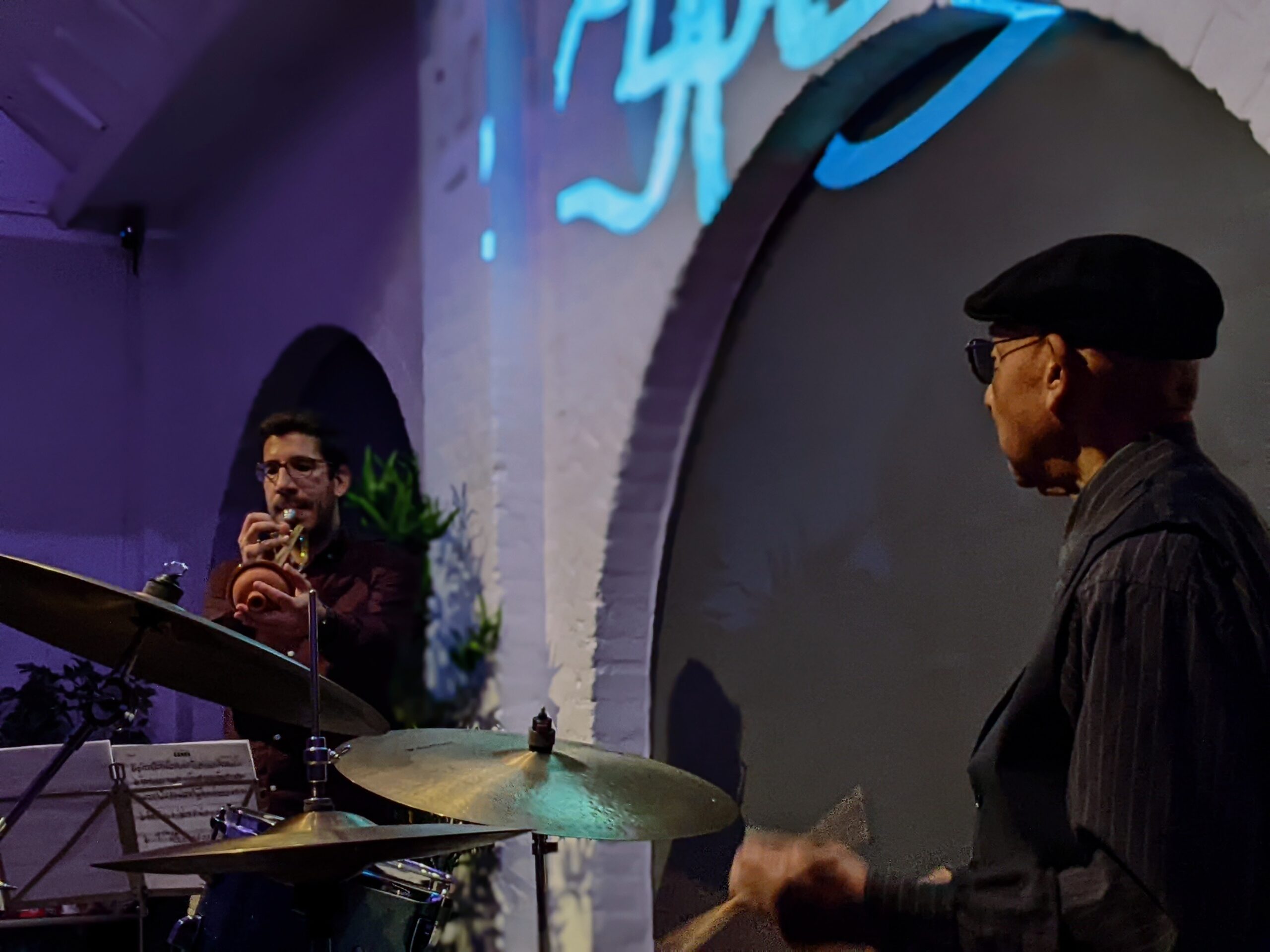 Daniel Cano & Doug Sides at Free Range 2022. Photo: M de Pulford
FR#
236
Daniel Cano & Doug Sides
Thu 06-10-22
- Doors at
7:30 pm
Fruitworks Coworking
1-2 Jewry Ln, Canterbury CT1 2NP
During lockdown the Spanish trumpeter Daniel Cano recorded a blistering duo album with the great jazz drummer Doug Sides (who has played with jazz icons such as Lionel Hampton, Chick Corea, Benny Golson and Hank Jones amongst many, many others).
Stripped right back to just rhythmic textures and a strong melodic line, the duo launched the album, Duplexity, at Ronnie Scott's jazz club in London.
Duplexity is a fine showcase for the evidently strong relationship between a trumpeter whose warm, bright open tone evokes the hard-bop masters of the '50s and '60s and a drummer with a light touch and a supple sense of swing. Restricted means, in terms of instrumentation, but the result is a rich experience with no sense of austerity — or of overplaying to fill the spaces. (Richard Williams)

Lumpen Nobleman will DJ before and after Daniel and Doug's set.
Lumpen Nobleman is an alias of Extra Normal label boss and Contra Pop Festival organiser Kyle McCallum. As well as organising what has since 2015 been one of the musical highlights of the summer, LN broadcasts excellent, eclectic shows monthly on Repeater, Tak Tent and Margate Radio.
Listen to Lumpen Nobleman's excellent 2020 Errors and Remedies EP - with remixes by Helena Celle, Don't DJ, Mariam Rezaei (who knocked us out at Contrapop in August) and more, here: extranormalrecords.bandcamp.com/album/errors-and-remedies
Links:
Daniel Cano website
Doug Sides website
Lockdown sessions: Ronnie Scott's presents Duplexity 15/04/2021
February Live At Free Range. Work8hop Jazz feat. Daniel Cano and Frances Knight. Composed by Matt Miles
Extranormal Records website
Sponsors and Partners:


Supported by Arts Council England Project Grants