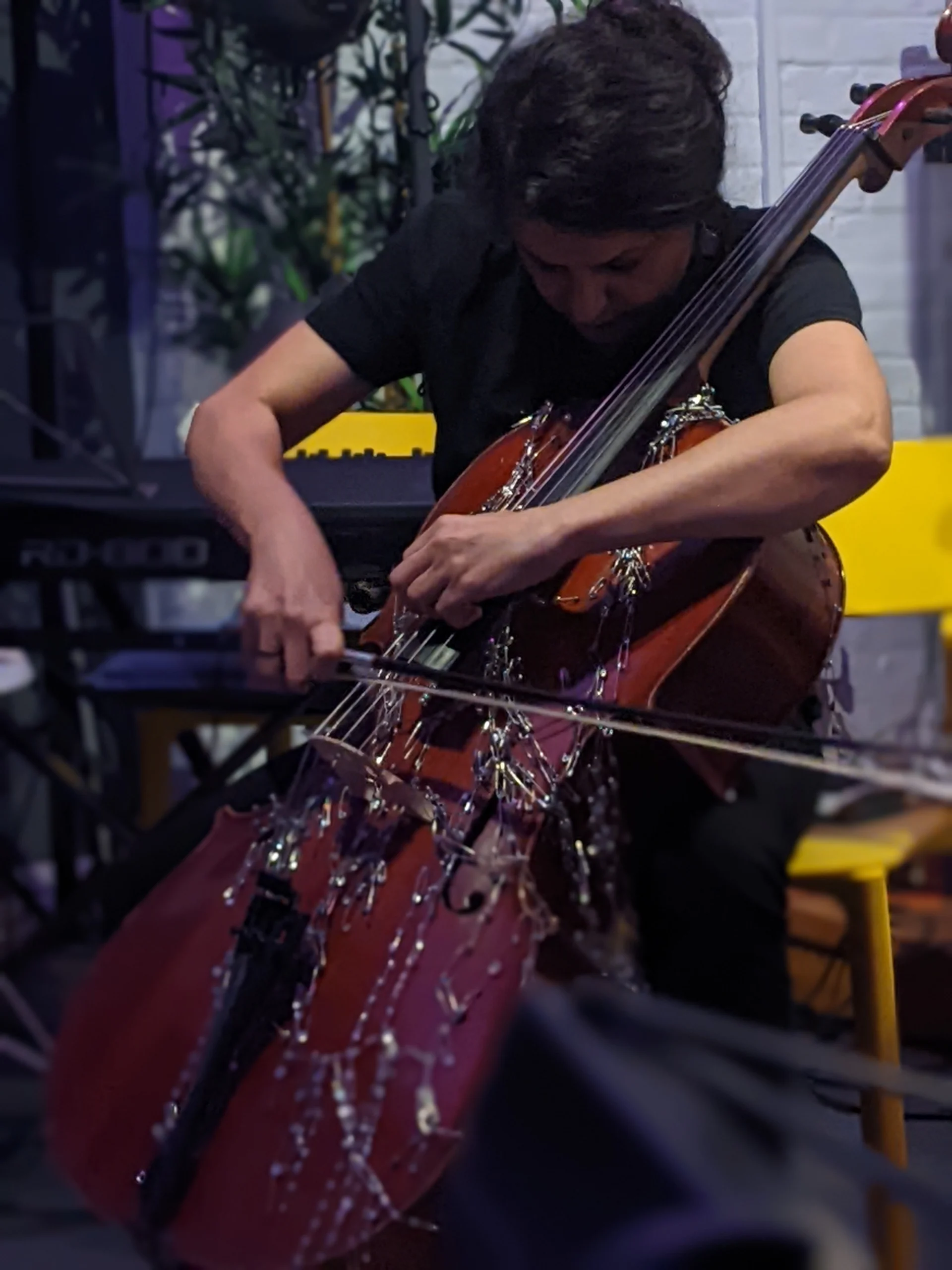 Khabat Abas, performing at Free Range #238. Photo: M de Pulford
FR#
238
Free Women present: 2 sets
Thu 13-10-22
- Doors at
7:30 pm
Fruitworks Coworking
1-2 Jewry Ln, Canterbury CT1 2NP
A concert of two sets each led by distinctive composer/performers who co-run a new group called Free Women. Each Free Range season will include an event curated by Free Women.
Maureen Wolloshin & Khabat Abas
Anna Braithwaite with Phil Self & Samuel D Loveless
Anna Braithwaite, Maureen Wolloshin, Heledd Francis Wright, Nadia Louise Tewfik Bailey and Frances Knight

Composer, singer and performance artist, Anna Braithwaite, multi-instrumentalist Phil Self, and vocalist and trumpeter Samuel D. Loveless bring their project 'Sirens of the Deep' to Free Range. Originally conceived as a sight-specific performance on the deck of a Cold War submarine floating in the Medway, Sirens has been described as a 'post-digital musical ritual designed to reconnect a fractured society' and was a commission for the Electric Medway festival in August 2022.
Improviser, researcher and oboist, Maureen Wolloshin will be playing as a duo with the Kurdish-Iraqi cellist, improviser and composer, Khabat Abas.
The night will begin with a performance from a new, all women ensemble featuring Anna Braithwaite, Maureen Wolloshin, Heledd Francis Wright, Nadia Louise Tewfik Bailey and Frances Knight

About the musicians
Anna is a composer, singer and performance artist. She builds her unique, site-specific compositions in close dialogue with people and places, foregrounding the weird and theatrical concealed within the everyday.
She is a regular performer at Free Range, most recently as part of the Moonseed Collective (FR#220) and earlier, reacting to the Feminist Improvising Group's recording from the album Another Evening at Logos 1974 79 81 with Sylvia Hallett and Gemma Storr (FR#169)
Khabat's practice is based on sound and memory. It reflects on the socio-political, from a feminist perspective, in the war zone.  Khabat builds cellos from different materials. These include a cello made from a bombshell found in her home city of Sulaymaniyah in Iraq. Alongside improvising and instrument-making her creative practice often incorporates sound installation and videography.

Maureen's music extends the sonic range of the oboe and cor anglais. She recently commissioned a new instrument (from musician and inventor Henry Dagg) called the Gliss Anglais. Her compositions explore connections between graphic notation, touch, and sound and are presented as a sonic painting for the performer to navigate.
Phil divides his time between singing groups and community choirs, and regular gigging, composing and touring work with groups Yndi Halda, Will Varley, Molly's Lips, Cocos Lovers and The Hellfire Orchestra. He is a member of The Montrose Composers Club.
Samuel is also a member of the Montrose Composers Club, as well as being a composer, vocalist, performance artist and trumpeter. His composition covers a range of genres challenging the traditional approach to composition, exploring the relationship between performer, space and audience, with accessibility and inclusivity being central to his work.
Links:
Sponsors and Partners:


Supported by Arts Council England Project Grants