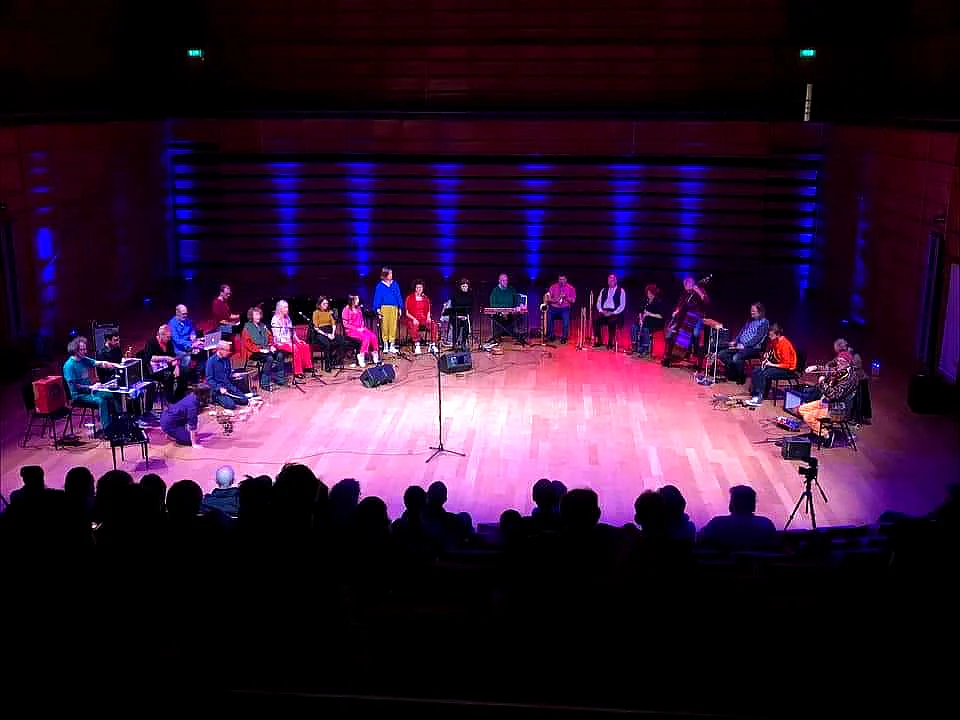 Maggie Nicols and the Free Range Orchestra 19 Nov 22. Photo by Ibi Reichl
FR#
244
Maggie Nicols & The Free Range Orchestra
Sat 19-11-22
- Doors at
8:00 pm
A collaboration between the Gulbenkian Arts Centre and Free Range
The singer Maggie Nicols was a founding member of the Feminist Improvising Group in 1977 as well as being a key member of John Stevens' Spontaneous Music Ensemble and Keith Tippett's ambitious jazz-rock group, Centipede. For over 30 years she has run regular improvisation meetings called The Gatherings.
The Free Range Orchestra grew out of our series of events. They are a collective of musicians, dancers and poets with a shared love of improvisation and experimentation. Their performances combine the uncompromisingly anarchic with a celebration of creativity and community.
For this, the final show of our tenth anniversary year, Maggie Nicols will lead the orchestra in a series of adventurous and playful group improvisations.
Information about tickets
You are invited to pay what you decide for this performance at the Gulbenkian.
Click here to book
Links:
Maggie Nicols & the Feminist Improvising Group ​​
Maggie Nicols singing Stormy Weather
Sponsors and Partners:


Supported by Arts Council England Project Grants

In partnership with Gulbenkian Arts Centre