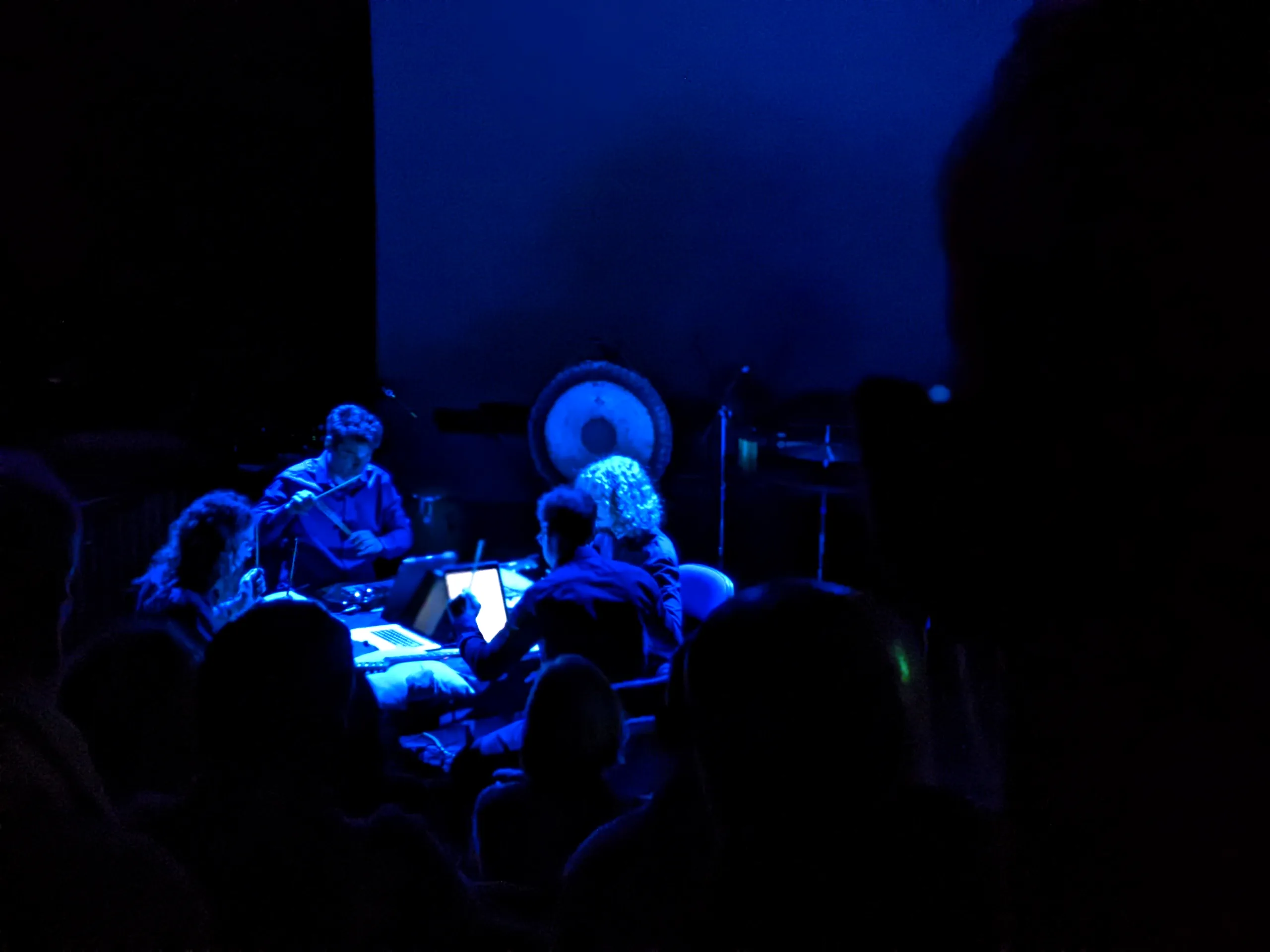 Bl!ndman drums at Wintersound 2023. Photo: M de Pulford
FR#
245
Wintersound Festival 2023
Fri 20-01-23
- Doors at
3:30 pm
BL!NDMAN percussion quartet (playing Maureen Wolloshin, Sophie Stone, Joe Inkpen, Jan Foote), Patternbook, Els Van Riel & Stevie Wishart, Magz Hall & the Free Range Orchestra
Canterbury is warmed from its midwinter chill by striking presentations and performances by local, national and international sound makers, focusing on the newest of new music and sound.
and dynamic artists from the across the EU, including the Blindman percussion quartet from Brussels. An event open to all with an interest in new music and sound.
3.30pm-6.30pm
Daphne Oram building
3.30pm onwards: Student films, sound works and installations.
5pm: CCU Student Electronic Performances
5.30pm-6.30pm: The annual Daphne Oram lecture, Dr Magz Hall (room DO 0.14)
7pm-8pm
Anselm Studio 1
BL!NDMAN Percussion Quartet premiere new works by
Maureen Wolloshin, Sophie Stone, Joe Inkpen and Jan Foote.
8.15pm-10pm
St Gregory's Centre for Music
8.15pm-8.35pm: patternbook; Maureen Wolloshin, Heledd Francis-Wright, Nadia Tewfik-Bailey and Frances Knight.
8.35pm-9.30pm: Els Van Riel live projection, Stevie Wishart (hurdy gurdy)
9.30pm: Free Range Orchestra
Free entry, booking essential (see below)
Email: [email protected]
Tel: +44 (0) 1227 922994
Sponsors and Partners:


in partnership with Canterbury Christchurch University