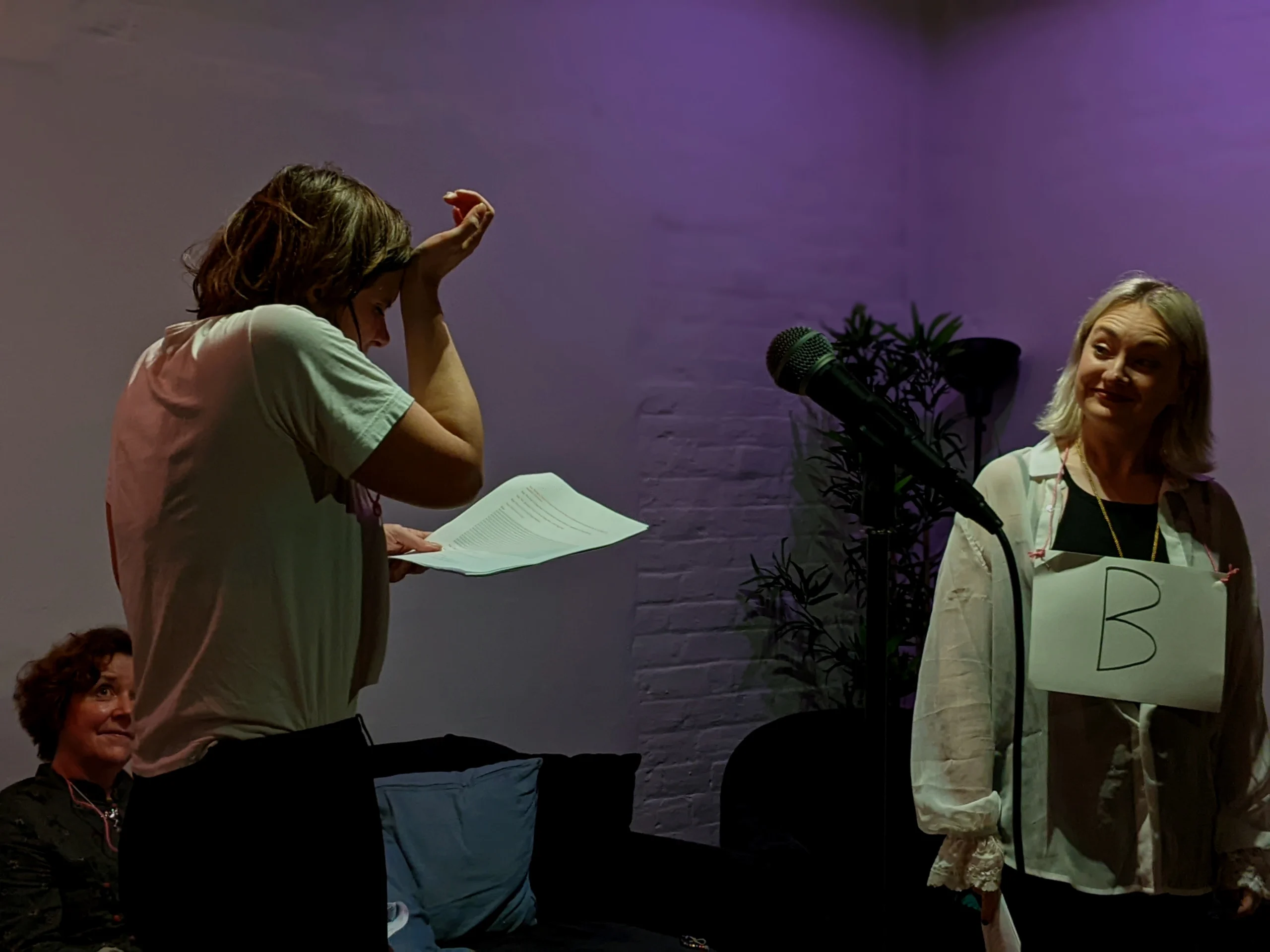 Kat Peddie's Playtime, 2022. Photo: M de Pulford
FR#
243
Kat Peddie's Playtime
Thu 17-11-22
- Doors at
7:30 pm
Fruitworks Coworking
1-2 Jewry Ln, Canterbury CT1 2NP
Free Range cordially invites you to celebrate the birthday of Kat Peddie. In honour of the occasion, Kat has been writing, rewriting and performing a birthday play ever since she hit the same age as Christ. In this, her 37th year, she brings the show to Free Range.
Performed by Kate's Bush, an experimental Poets' Theatre company comprising Kat Peddie, Ibi Reichl & other more rotational members (including Harry the Beagle) The Birthday Party is a Pinter rip-off like no other, exploring the intricacies, meanings and ambivalences of gift economies, love languages and, of course, birthdays.
The Playtime will be supported by Give Me Merci. Give Me Merci know that learning a new language is hard but, with their radical new phrase book,they are here to help…
Party bags pending an AHRC grant application.
About Kat Peddie
'Unsettling, vibrant and seriously moreish' (Gareth Prior)
Kat Peddie is a poet who writes plays. Her performance work is inventive and laugh-out-loud funny, taking a satirical look at modern poetry and gender politics through a wry absurdist lens.
Kat is one half of the band Kate's Bush. She works closely with the Free Range Orchestra and co-hosts the Range Free Variety Show & Open Mic.
Kat is also a lecturer in Creative Writing at the University of Kent. Her publications include Spaces for Sappho (Oystercatcher 2016), the digital opera The Octopus (composed by Lauren Redhead, Pan y Rosas Discos 2020) and poems and photographs published in Tears in the Fence, Shearsman Magazine, Snow, Tentacular, Datableed, Golden Handcuffs Review, Litmus, Molly Bloom and Junction Box, among others.
'[Her] poems leave spaces on the page and only the clearest of words are left as stone markers, memorials … [they are] hard-edged and personal; they are full of meetings' (Ian Brinton)
Links:
Excerpt from Spaces for Sappho (2016)
Digital opera The Octopus (2020)
Sponsors and Partners:


Supported by Arts Council England Project Grants