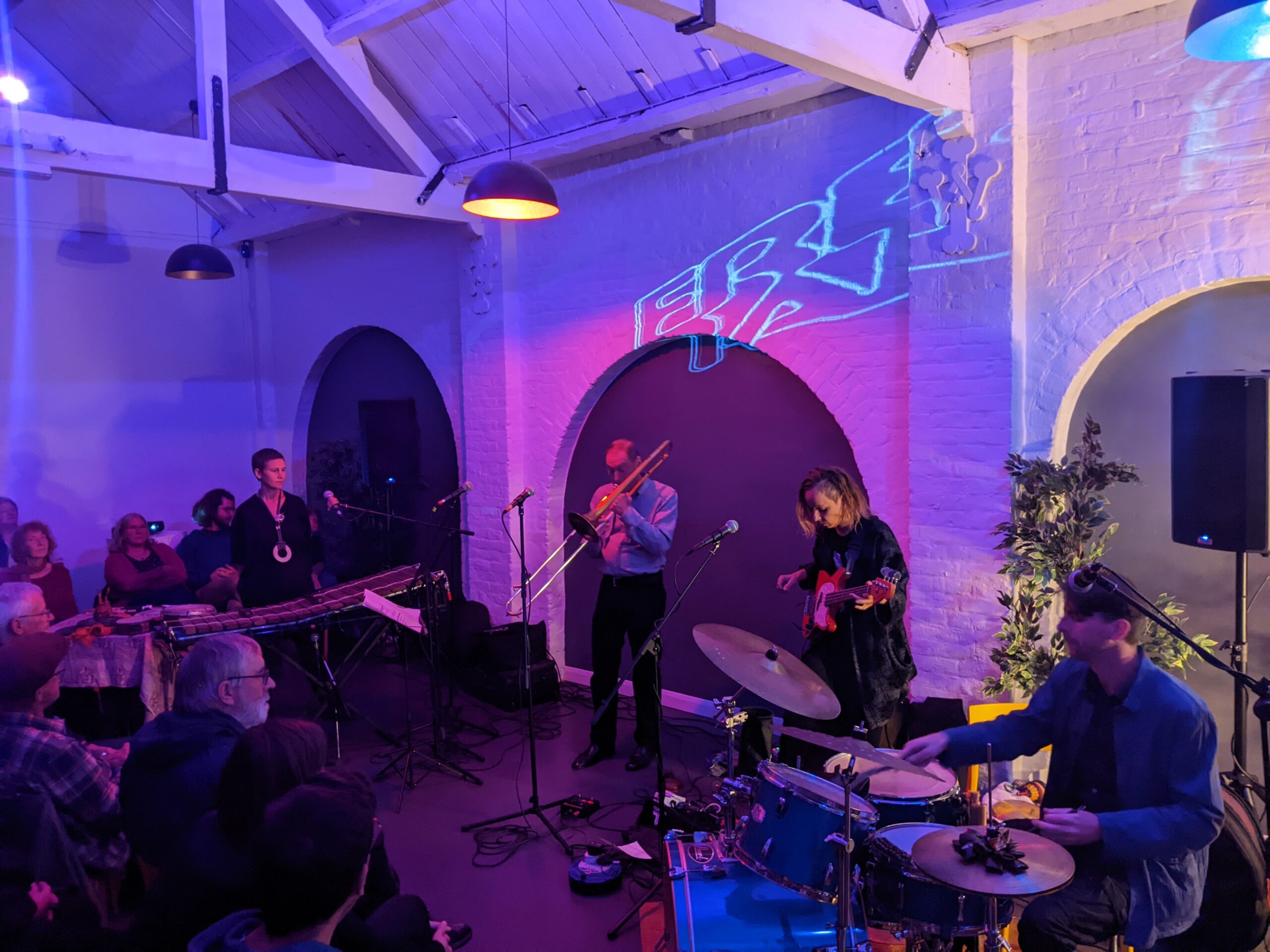 Vula Viel (Bex Burch, Ruth Goller and Jim Hart) with Peter Zummo at Free Range 2022. Photo: M de Pulford
FR#
235
Vula Viel & Peter Zummo + Free Range Orchestra album launch
Thu 29-09-22
- Doors at
7:30 pm
Fruitworks Coworking
1-2 Jewry Ln, Canterbury CT1 2NP
"Dance to it, make love to it, stare at the clouds to it" - Iggy Pop
Formed by Bex Burch in 2015, Vula Viel's music has shifted over the course of their three critically acclaimed albums, from Afro jazz-tinged adaptations of traditional Dagaare music towards a unique sound rooted in post punk.
Placing Bex's rawly delivered gyil (Ghanian xylophone) rhythms as the central element, the band's scything rock dynamics have seen them championed by Iggy Pop. Bassist Ruth Goller (Skylla, Acoustic Ladyland, Melt Yourself Down) and drummer Jim Hart (Cloudmakers Trio) complete the line-up. They have gained further plaudits for their pulsating live shows at venues such as Café OTO and Total Refreshment Centre.
The trio are joined by NYC legend Peter Zummo. In addition to performing his own compositions and leading his own ensembles, he has worked with myriad bands, orchestras, composers and musicians.
Peter's celebrated trombone style is one of the most beloved features of Arthur Russell's sound, with whom he played and collaborated with in the recording studio.
★ ★ ★ ★ Evening Standard
★ ★ ★ ★ Jazzwise
★ ★ ★ ★ Financial Times
★ ★ ★ ★ Songlines

The Free Range Orchestra will be playing the opening set to launch their new album, Connections, recorded live with saxophonist Evan Parker in July 2021.
Links
Vula Viel website
Peter Zummo website
#5 Go Bang (Dinosaur L, produced by Arthur Russell, feat Peter Zummo)
Arthur Russell - In The Light of The Miracle (featuring Peter Zummo)
Sponsors and Partners:


Supported by Arts Council England Project Grants