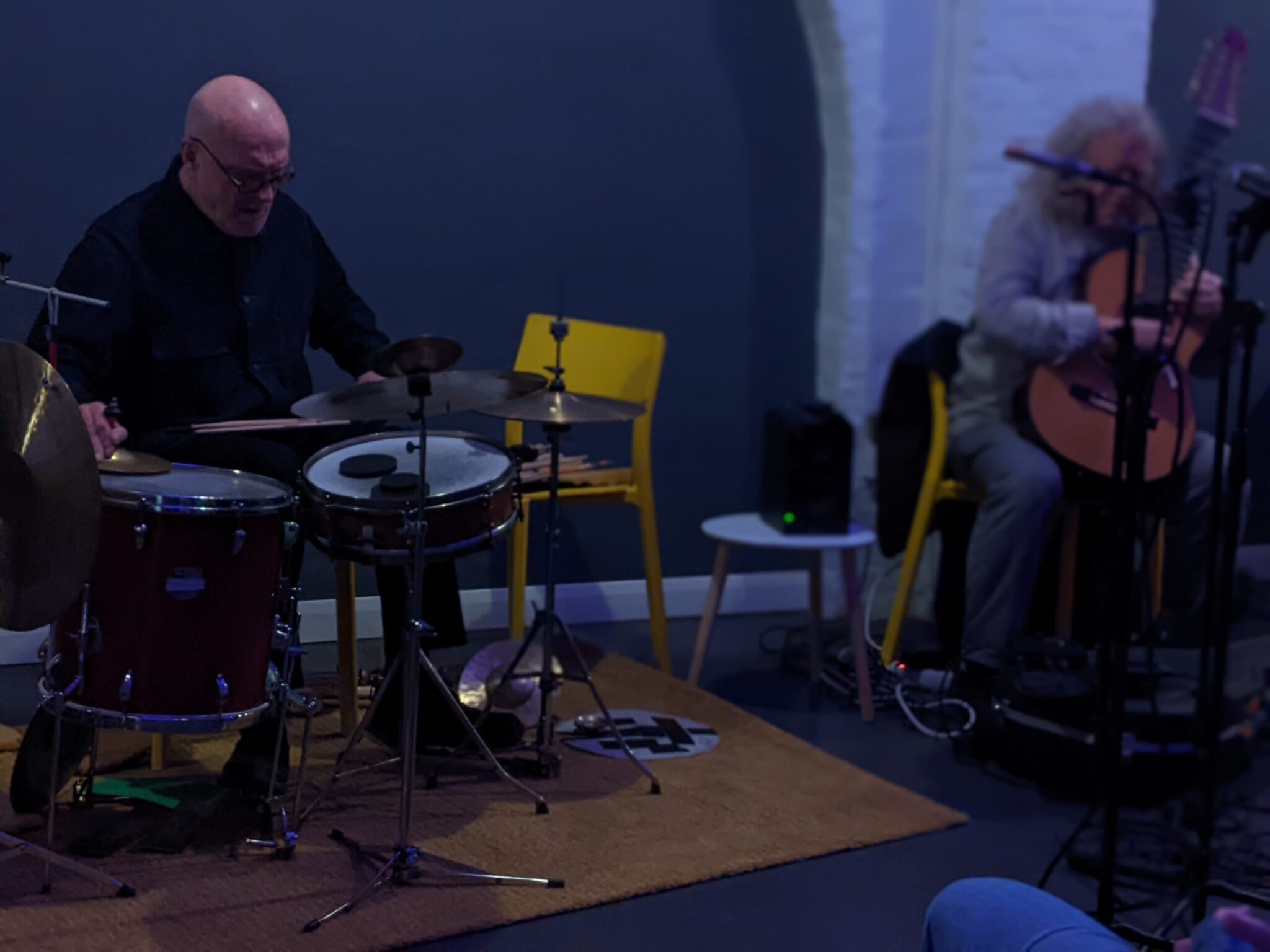 Roger Turner (drums/percussion) & Pascal Marzan (guitar) at FR #228. Photo: M de Pulford
FR#
228
Pascal Marzan & Roger Turner
Thu 07-04-22
- Doors at
7:30 pm
We are pleased to present the drummer Roger Turner improvising as duo with the guitarist Pascal Marzan.
Pascal Marzan plays a microtonal 10 string guitar. After studying classical guitar in Paris in the 70's and 80's, playing music by Luciano Berio and Tristan Murail, Pascal became interested in improvisation and the music of eastern Europe, Asia and Africa. He was particularly drawn to central Asian music from Uzbekistan, Tadjikistan, and Kyrghyztan.
The drummer Roger Turner has been described by The Wire as "one of the giants of free improvisation":
'He has a virtuosity as astounding as it is inexplicably hilarious. i have rarely heard such an exquisite combination of volcanic power and finely- honed precision' (The Wire) 
The opening set features the poet Kat Peddie reading from her own work alongside a collaboration with Walt Whitman, the Free Range Orchestra and the audience.
Pazcal Marzan duet with Phil Durrant (bandcamp)
Roger Turner with Chris Biscoe at FR#130
Kat Peddie conducting the Free Range Band for FR#166
turners-site.com
*The original line-up for this evening included Phil Minton, who was unable to play because of ill health. 
Sponsors and Partners:


Supported by Arts Council England Project Grants