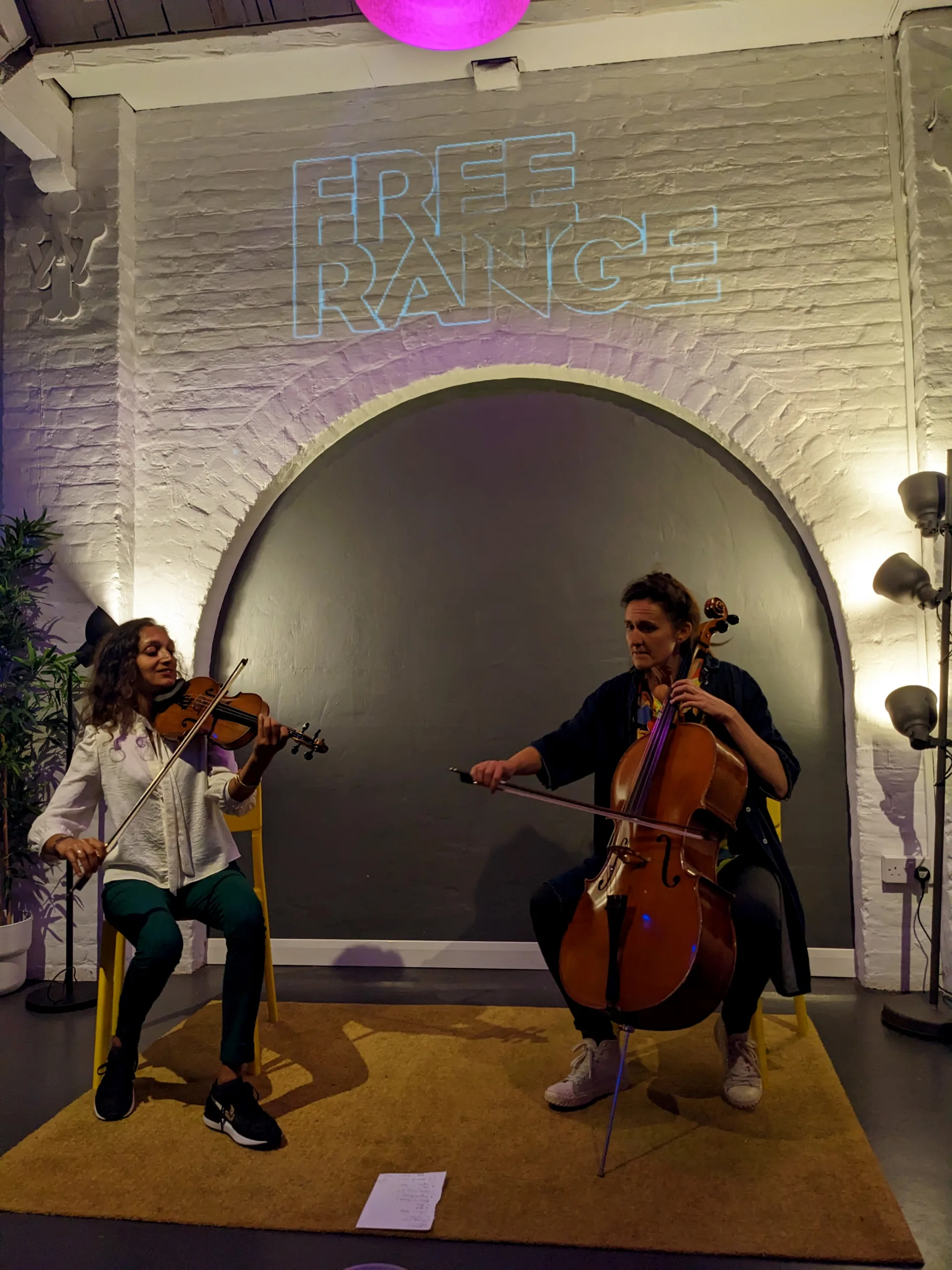 Balladeste at Free Range, 2023. Photo: M de Pulford
FR#
253
Kelvin Corcoran | Balladeste
Thu 11-05-23
- Doors at
7:00 pm
Fruitworks Coworking
1-2 Jewry Ln, Canterbury CT1 2NP
The extraordinary lyric poet Kelvin Corcoran will be reading from his collected poems, to be published by the prestigious Shearsman Press in May 2023.
"Corcoran has as wide a range and as rich a vocabulary as any poet now writing. He possesses a flawless ear, a fresh eye for image and detail, penetrating analysis and a storyteller's gift. He can shift registers suddenly, from lyric to formal mode to common speech, and even a snatch of song … Kelvin Corcoran is one of the rare true poets. Reading him is a privilege and a pleasure, a new awareness'
(David Wevill)
Balladeste are Preetha Narayanan (violin) and Tara Franks (cello), who explore the versatility and sound potential of just two string instruments. With traces of contemporary minimalism, Indian classical and folk, they co-create all original compositions that are vibrant and experimental yet melodic and filmic in quality – songs without words with a contemporary alt-folk twist.
"music that can radiate suspense but at the same time is warm and intimate" (Songlines 4****)

"Absolutely stunning"
(BBC Radio 4 Woman's Hour)
🔗
Kelvin Corcoran
Shearsmith books
👂 Kelvin Corcoran reading at Free Range in 2012
Balladeste
Balladeste website
👂 Balladeste - 'Dina Dukhio' via Bandcamp
👁 Balladeste - 'Being' via YouTube
Sponsors and Partners:


Supported by Arts Council England Project Grants