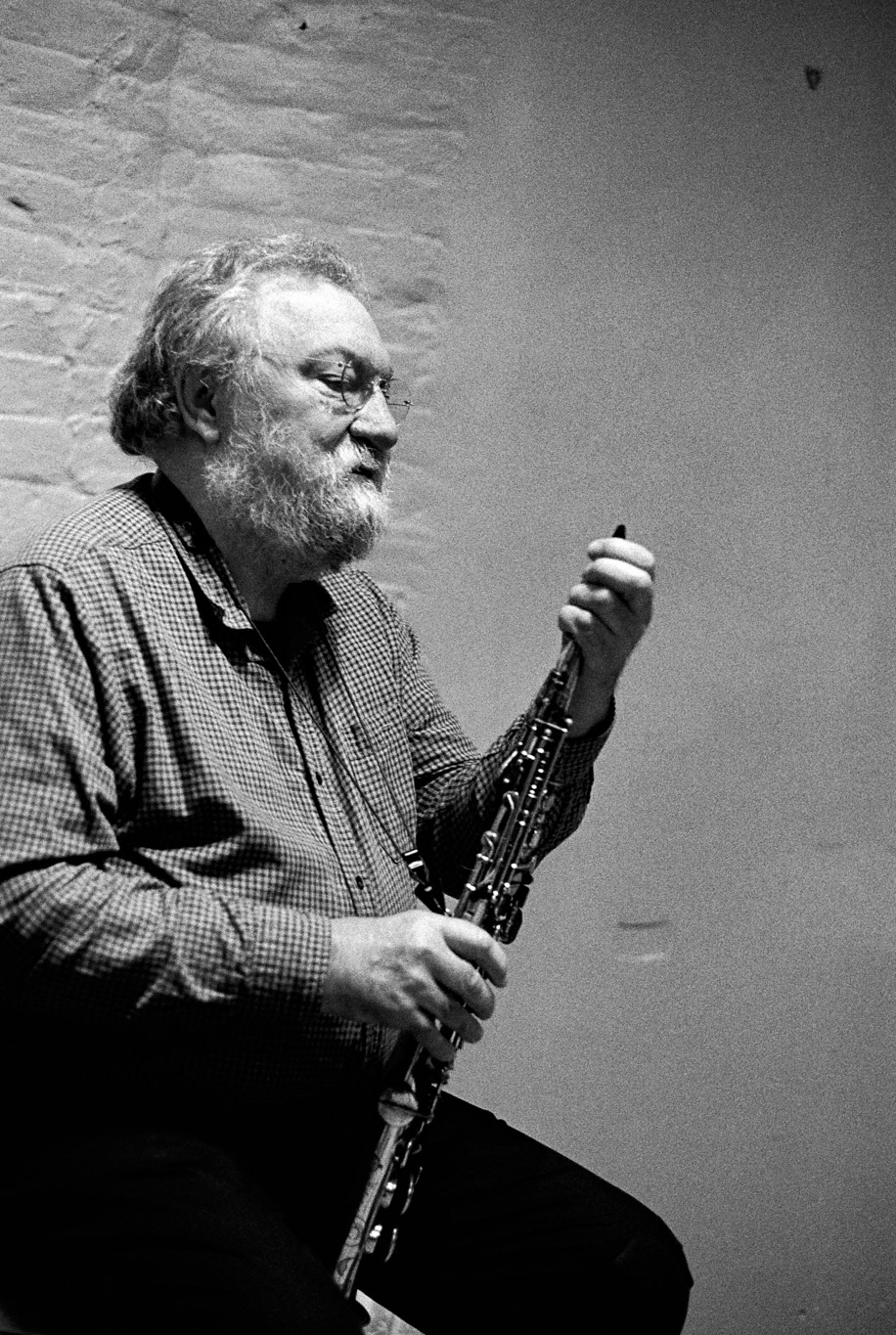 Evan Parker & Henry Dagg
'[Saxophonist Evan Parker] is the greatest living exponent of free jazz … if you've ever been tempted by free improvisation, Parker is your gateway drug' (Stewart Lee, The Guardian)
From very early on in his musical investigations, Evan Parker has always been interested in electronic music. The music to Forbidden Planet was one of his childhood inspirations.
From his earliest days with Paul Lytton's contact microphones on all available surfaces, through to recent projects with Matt Wright playing a laptop via VCs3, FM synthesis and all technologies in between, electronic music has been an essential part of his collaborations. He now plans to combine his virtuosity on the saxophone with the 'retrophonic' technology of Henry Dagg.
The musician/instrument maker Henry Dagg is a veteran composer of electronic music specialising in tape-based musique concrete techniques and electro-acoustic instrument development who has collaborated with various artists including Matthew Herbert, Hannah Peel and Bjork. He will be using a range of vintage electronic sound sources and modifiers to improvise a dialogue with Evan parker's saxophone performances, while using techniques such as variable tape delays and speeds, ring modulation and frequency shifting effects to expand the soundscape of the instrument.
Opening this evening is Filter Feeder aka composer, percussionist and DJ, Julian Doyle.
Filter Feeder encompasses experiments with analogue electronics,  home made electro-acoustic devices, political sample/field recording sound collages, a kind of driving abstract dub and DJ mixes blending traditional music from around the world with contemporary electronic tracks. These sounds are then processed and manipulated, looped and filtered to create a rhythmic soundscape heavily informed by the space and abstraction of dub.
Evan Parker
https://evanparker.com/index.php
Henry Dagg
https://en.wikipedia.org/wiki/Henry_Dagg
Henry Dagg's 'Catastrophony'
https://www.facebook.com/watch/?v=1328423647243236
Henry Dagg's 'Sharpsicord' or pin-barrel harp
https://www.facebook.com/watch/?v=971739156245022
Filter Feeder / Julian Doyle