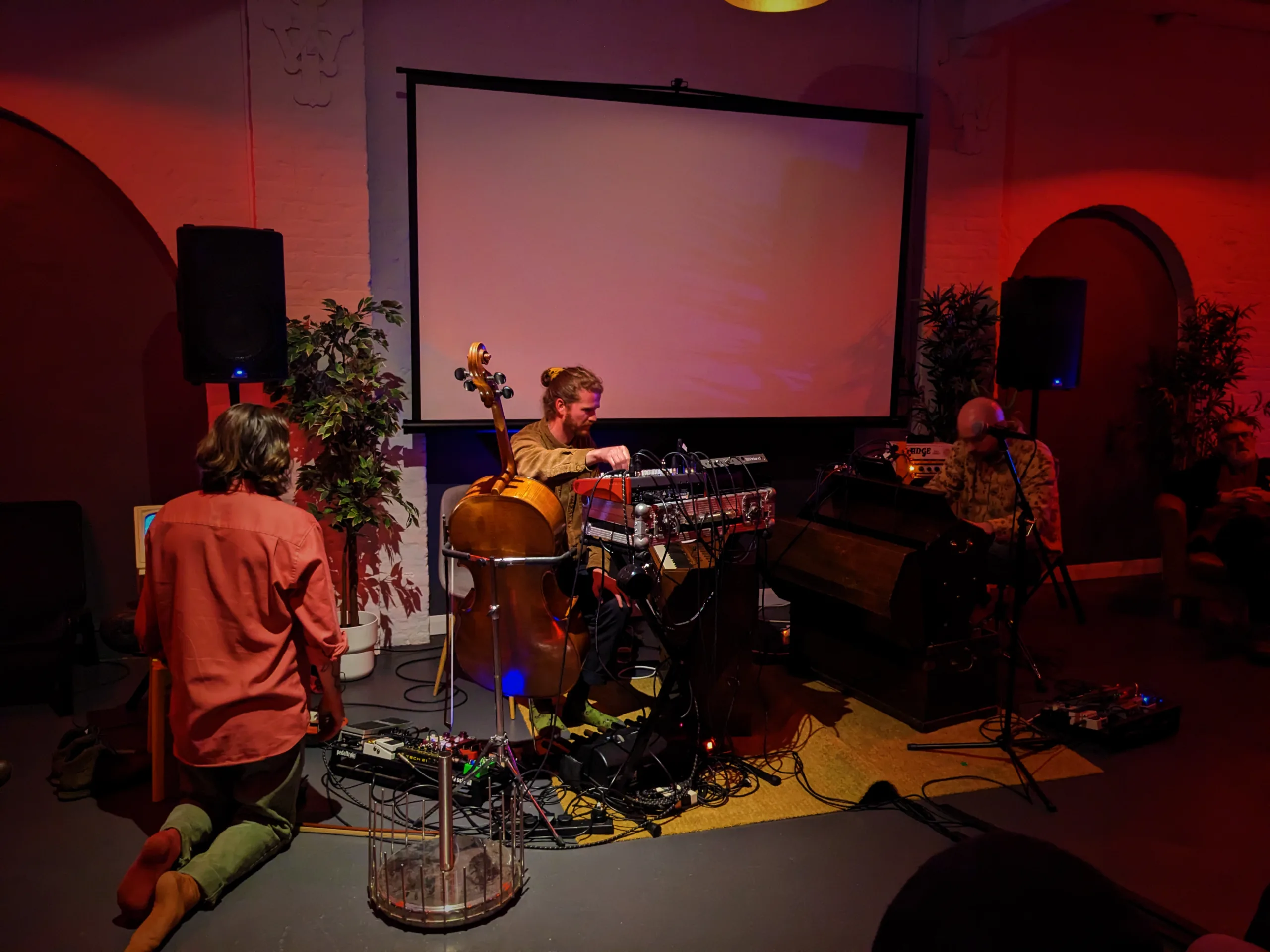 Dau performing with Chase Coley at Free Range #251. Photo: M de Pulford
FR#
251
Dau | Tony Westcliff
Thu 27-04-23
- Doors at
7:00 pm
Fruitworks Coworking
1-2 Jewry Ln, Canterbury CT1 2NP
Dau is the new ambient drone project from UK musician Phil Self. Known locally for his work with Smugglers Festival, the Isolation Choir and bands like Cocos Lovers, Will Varley and Montrose Composers Club, Phil is joined here by cellist James Gow. Dau's debut release on Phantom Limb's Spiritual imprint, entitled 'Zed Zed', was created entirely from acoustic instrumentation and real-time performances and has been described as 'serenely crafted quietude [that] ripples and breathes with life, every creak of its bowed guitar as audible as the seagulls flying above Self's flat' (Phantom Limb).
Phil and James were joined for this performances by Chase Coley (see FR#252), playing walkie talkies, TV static and a waterphone, and Samuel D Loveless (trumpet).
Opening the evening is Tony Westcliff: famous rock star, intellectual giant of the manosphere and freelance sex therapist.
'Tony is dry, silly, camp, sober and terrific, all at once ... He inhabits the stage with a throwaway charisma, and we're never sure if things are going to plan' (Steven Todd)
🔗
Dau
Dau website
👂 Zed Zed on Bandcamp
👂 The Drift by JOW (James Gow & Pete Judge) on Bandcamp
Tony Westcliff
Help Me Fake My Death on bandcamp
Sponsors and Partners:


Supported by Arts Council England Project Grants